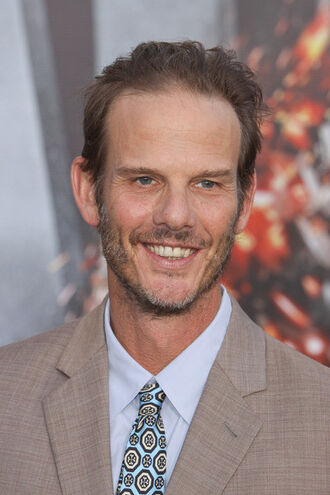 Pete Berg
(born March 11, 1962) is an American actor, film director, producer and writer. He is known for directing films such as Friday Night Lights, The Kingdom, The Rundown, Hancock and Battleship. He also developed the television series Friday Night Lights, which was adapted from the film he directed. As an actor he is best known for his role as Dr. Billy Kronk on the CBS medical drama Chicago Hope.
Early Life
Edit
Berg was born in New York City, New York. He is the son of Sally and Laurence "Larry" Berg. Berg's father was Jewish and his mother Christian. He is the cousin of writer H. G. Bissinger, whos book Friday Night Lights provides the basis for the film and TV series of the same name. His mother co-founded a youth group named Catalog for Giving and worked at a psychiatric hospital when Berg was growing up. He has a younger sister, Mary. After graduating high school from The Taft School in 1980, Berg attended Macalester College in Saint Paul, Minnesota, where he majored in theatre arts and theatre history. He graduated in 1984, and in 1985 moved to Los Angeles to pursue his film career.
Berg put his acting aspirations on hold when he first arrived in Los Angeles, choosing instead to learn about the film business as a production assistant. In 1992 Berg gained recognition for playing a World War 2 soldier in the film A Midnight Clear. In 1998, Berg made his feature directorial debut with Very Bad Things, a black comedy starring Jon Favreau, Christian Slater, Jeremy Piven, Daniel Stern, and Leland Orser as a group of men behaving badly. The film, which was shown at the Toronto and San Sebastian Film Festivals, received a fairly mixed critical reception. Nonetheless, Berg continued to be a presence behind the camera. In 2000, he created Wonderland, an edgy dramatic television series set in an asylum. While the ABC show received rave reviews and garnered a cult following, it failed to deliver ratings and was quickly cancelled.
Berg in 2003 directed The Rundown. Starring Dwayne "The Rock" Johnson and Seann William Scott, the Berg-helmed action comedy received mixed reviews from critics and disappointed at the box office, only grossing 80 million of its reported 85 million budget. In 2004, Berg began work on his third directorial effort, Friday Night Lights, a football film based on the New York Times bestseller written by Buzz Bissinger.
In 2006, Berg developed and became executive producer of NBC's Peabody and Emmy Award-winning drama Friday Night Lights, based on the novel and film of the same name.
Berg followed up in 2007 with The Kingdom, a Michael Mann-produced political thriller set in Saudi Arabia, starring Academy Award winners Jamie Foxx and Chris Cooper, also with Jennifer Garner whom Berg met when he appeared in a two-part episode of Alias where he played Garner's ex-boyfriend. Berg's film Hancock, starring Will Smith, Charlize Theron and Jason Bateman, was one of the biggest grossing films of 2008.
Berg directed the Hulu.com commercial featuring Alec Baldwin, which both The New York Times and Time magazine named best spot of Super Bown XL3. In 2009, Berg directed a two-hour pilot movie for a FOX television series Virtuality. Even though the show was not picked up for a full season, the pilot was released on DVD exclusively through Best Buy. Berg also directed the ESPN documentary "Kings Ransom" in 2009. Berg also wrote the 2010 film The Losers.
Berg also directed the 2012 science-fiction/action film Battleship, and is developed a sequel to Hancock, the film adaptation of Marcus Lutrell's book Lone Survivor, and a live-action version of the graphic novel Hercules: The Thracian Wars.
Personal Life
Edit
On August 28, 1993, Berg married long-term girlfriend Elizabeth Rogers; they divorced in 1998. Berg has a son, Emmett, who was born December 1999. Berg dated actress and model Estella Warren for four years until spring 2006 when they ended their relationship.
Filmography
Edit
In DevelopmentEdit
Hercules: The Thracian Wars (2011)
Lone Survivor (2013)
Untitled Jon Roberts Project (Announced)
Chicago Hope (1997) (TV Series, Episode "Colonel of Truth")
Very Bad Things (1998)
Wonderland (2000) (TV Series, Episode "Pilot")
The Rundown (2003)
Addicted (Enrique Iglesias Music Video)
Friday Night Lights (2004)
Friday Night Lights (2006) (TV Series, Episodes "Pilot" and "East of Dillon")
The Kingdom (2007)
Keeps Gettin' Better (2008) (Christina Aguilera Music Video)
Hancock (2008)
30 for 30 (2009) (TV Series, Episode "Kings Ransom")
Virtuality (2009) (TV Movie)
Prime Suspect (2011) (TV Series)
Battleship (2012)
Chicago Hope (1994) (TV Series) (1 Episode: "Quiet Riot" as Peter W. Berg)
Very Bad Things (1998)
Wonderland (2000) (TV Series, 1 Episode: "Pilot")
Friday Night Lights (2004)
Friday Night Lights (2006) (TV Series, 1 Episode: "Pilot")
The Losers (2010)
Wonderland (2000) (Creator, Executive Producer)
Pu-239 (2006)
Friday Night Lights (TV Series) (Creator, Executive Producer)
Lars and the Real Girl (2007) (Executive Producer)
Trauma (TV Series) (2008) (Executive Producer)
30 for 30 (2009) (1 Episode: "Kings Ransom")
Virtuality (2009) (TV Movie)
The Losers (2010)
Prime Suspect (TV Series) (2011) (Executive Producer)
Battleship (2012)
Never on Tuesday (1989) Eddie
21 Jump Street (1988) Jerome Sawyer in "Champagne High"
Miracle Mile (1989) Band Member
Quiet Victory: The Charlie Wedemeyer Story (1988) Bobby
Race For Glory (1989) Chris Washburn
Shocker (1989) Jonathan Parker
Heart of Dixie (1989) Jenks
Tale of Two Sisters (1989) Gardener
Going Overboard (1989) (as Pete Berg) Mort Ginsberg
Genuine Risk (1990) Henry
Forradalom utan (1990)
Late For Dinner (1991) Frank Lovegren
Crooked Hearts (1991) Tom
A Midnight Clear (1992) Bud Miller
A Case for Murder (1993) Jack Hemmet
Fire in the Sky (1993) David Whitlock
Aspen Extreme (1993) Dexter Rutecki
Across the Moon (1994) Lyle
Uneviled (1994) Drug Dealer
F.T.W. aka The Last Ride (1994) Clem Stuart
The Last Seduction (1994) Mike Swale
Rise and Walk: The Dennis Byrd Story (1994) Dennis Byrd
Fallen Angels (1995) 2 Episodes
Chicago Hope (1995-1999) Dr. Billy Kronk in 106 Episodes
The Great White Hype (1996) Terry Conklin
Girl 6 (1996) Caller No 1- Bob
The Naked Truth (TV Series) (1996) 1 Episode
Cop Land (1997) Joey Randone
Very Bad Things (1998) Doctor
Dill Scallion (1999) Nate Clumson
Corky Romano (2001) Paulie Romano
The King of Queens (2002) Lil' Eddie in "Kirbed Enthusiasm"
Alias (2002)- Agent Noah Hicks in "Snowman" and "Masquerade"
Collateral (2004) Richard Weidner
Smokin' Aces (2006) "Pistol" Pete Deeks
Friday Night Lights (2007) Morris "Mo" MacArnold in "May The Best Man Win"
Lions for Lambs (2007) Lt. Col. Falco
The Kingdom (2007) FBI Agent (uncredited)
Entourage (2008) Himself in Season 5 and Season 7
Hancock (2008) Doctor (uncredited)
Californication (2012) Himself in Season 5 Episode 2
Very Bad Things (1998) (song "Walls Come Down")